Fashionable Appearance Rotary Sushi Conveyor Belt
Double-track sushi belt,double-track rotary sushi conveyor belt , conveyor belt sushi restaurant,conveyor belt sushi machine price is convenience, the transmission process more stable, but does not produce huge noise, has a certain degree of wear resistance, hygiene, easy to clean features.

1.Material standard
1)Conveyor chassis with A4 angle steel, size 40 * 40 * 4
2)Conveyor belt guide with mirror steel,thickness 1.2mm,
3)Nylon Connection square with MC nylon.
4)Chain with white nylon chain, thickness 5.0mm
5) Chain clip Chain with 304 stainless steel
6)Bush 304 stainless steel, thickness 3.0mm
7)Pulleys wear-resistant polymer oil-based nylon,
8)Strap is a wear-resistant polymer oil-containing nylon, 4.0mm thick
2. Power system
1.Motor use Taiwan original installation import motor :CPG-CV
Technical parameters:0.4KW;380V(The specific data depends on the length of the conveyor belt)
2. Wheel
Passive wheel Power wheel bending a driving wheel used the 45 steel of carbon steel.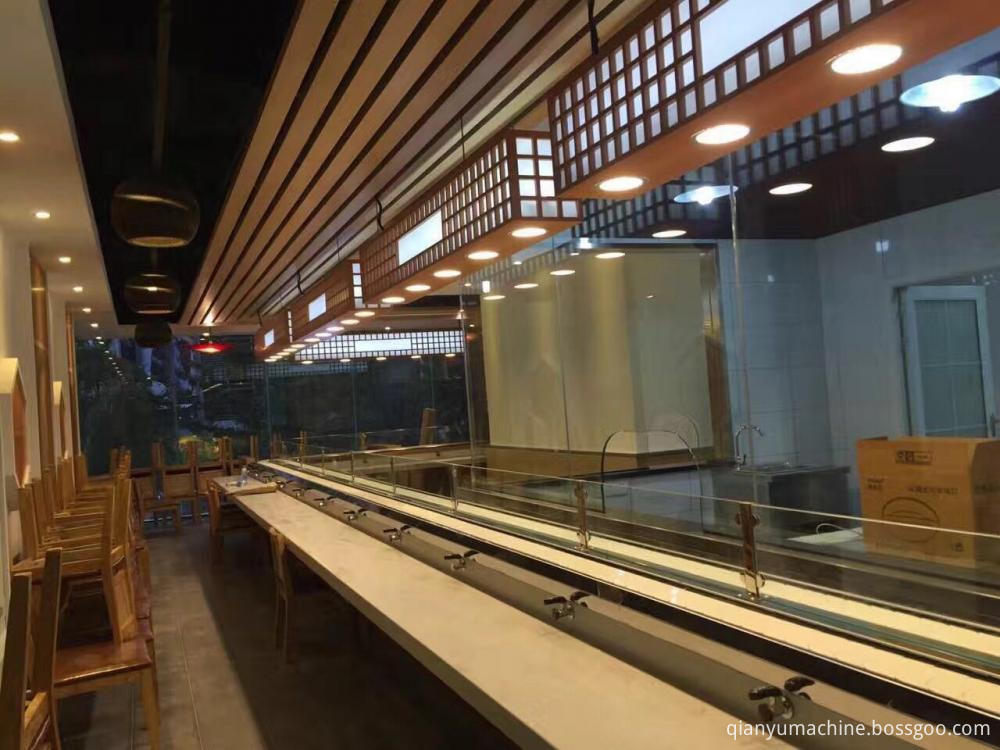 Note: General foreign rotary sushi equipment without faucet, if we can provide.
Product performance:
1, Double-track sushi conveyor equipment and control components imported products.
2, The appearance of materials such as the use of mirror steel, design and layout are very flexible.
3, The conveyor belt width is 480mm, the conveyor belt length can be designed according to customer requirements.

Product advantages:
1, Conveyor belt sushi restaurantan be designed according to the layout of the store and customer requirements of any shape.
2., Meal table decoration materials can have a variety of selection, such as artificial stone, marble, hardwood, etc., under normal circumstances, we recommend sushi conveyor equipment to make artificial stone countertops.
3, The table below the decoration can also be based on store layout or customer requirements design a variety of styles. Decorative materials are marble, fire board, Acrylic Sheet, translucent stone, aluminum panels, etc., customers can entrust us to install or choose to decorate the local.
QianYu food machinery is committed to quality one-stop service for domestic and foreign customers, including: Investment Budgeting, Location selection, interior design renderings and decoration, Restaurant Sales Planning, tableware and kitchen utensils, bench and stool, as well as chef assessment. With our one-stop service and professional knowledge of the catering market, your investment plan will be optimized.
Guangzhou Qianyu Food Machinery Co., Ltd. prioritizes customer satisfaction, and is dedicated to providing first-class product and after-sales service for domestic and foreign customers. In 2018 Guangzhou Qianyu Food Machinery Co., Ltd. will further expand world market in all continents, and strives to become first-class supplier of rotary conveying equipment. We welcome domestic and foreign customers to visit our company. With our top-quality, most timely and professional service, we can jointly create a new future.